Sustainable investing has captured the attention of institutional investors worldwide, but the scope of sustainable investing is broader than some investors might imagine.
Sustainable investing goes beyond incorporating environmental, social, and governance (ESG) factors to pursue better risk-adjusted returns. It's also about addressing our world's challenges by being responsible owners and stewards of assets, accountable citizens in our communities, and partners with like-minded organizations in quest of a more sustainable future (Figure 1).
These ambitions are compatible.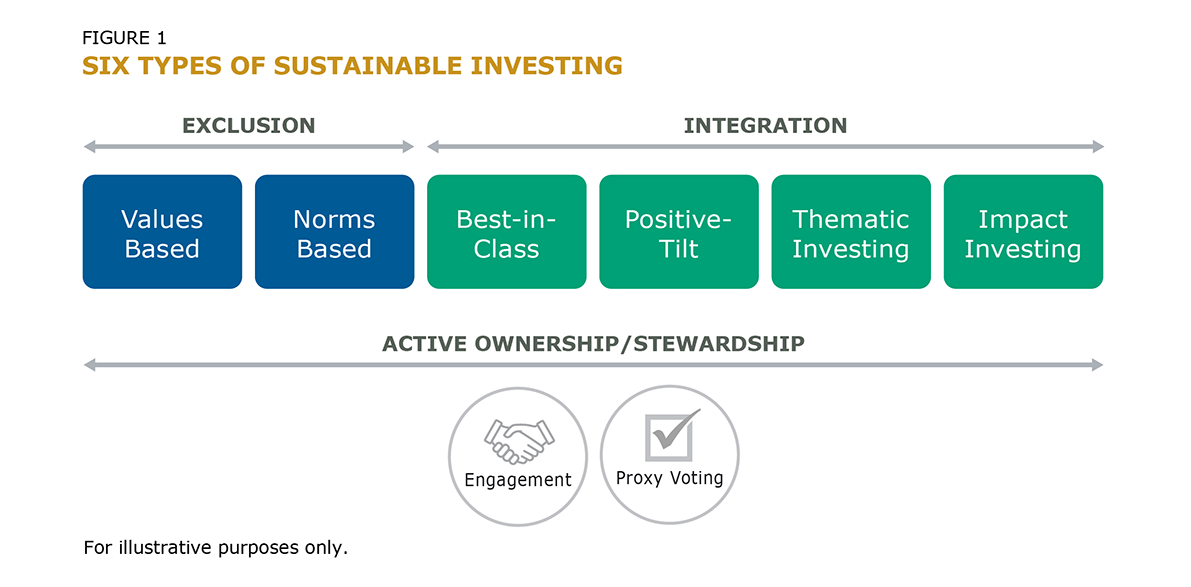 ESG Investments
A large part of sustainability investing is the consideration of environmental, social, and governance (ESG) factors in an investment process. Considering ESG factors is not necessarily about making value judgments, ethical imperatives, or normative claims. Because ESG integration offers the potential for better risk management, it can benefit every portfolio. In other words, as institutional investors, it's our fiduciary responsibility to understand the relevance of sustainability over long-term investing horizons.
Active Ownership/Stewardship
A critical component of a fiduciary's responsibility is to try to influence corporate behavior through investment ownership or stewardship. For sustainability-minded fiduciaries, that means engaging with companies who fail to meet responsible business conduct standards, face credible allegations of poor practices, or lack transparency in their ESG risk mitigation efforts. And, if necessary, influence their operations through proxy voting.
Corporate Responsibility
Beyond investment management operations, any sustainability effort should include your organization's responsibility to improve its own social and environmental impact. This means contributing to the well-being of your communities, including direct financial gifts and volunteering, job training for disenfranchised groups, commitment to diversity and inclusion programs, and reducing the organization's environmental footprint.
Global Cooperation
Our world is more interconnected than ever. We can only strengthen the implementation of sustainability efforts by working with others. Partnerships between governments, the private sector, and our communities are essential to support sustainable investing objectives and are built upon shared principles, vision, and goals. Examples of such partnerships in our industry include the Principles for Responsible Investing (PRI), the Task Force on Climate-related Financial Disclosures (TCFD), and Climate Action 100+.
Sustainable Investing Framework
Collectively, ESG investments, active ownership/stewardship, corporate responsibility, and global cooperation offer a framework for successful sustainable investing – beyond responsible investments. As an example, Intech has embraced this framework to build its sustainable investing approach (Figure 2). While Intech has been a signatory to the Principles for Responsible Investment since 2012, we believe this framework reflects a broader commitment to UN Sustainable Development Goals, which is a blueprint for a more sustainable future for everyone.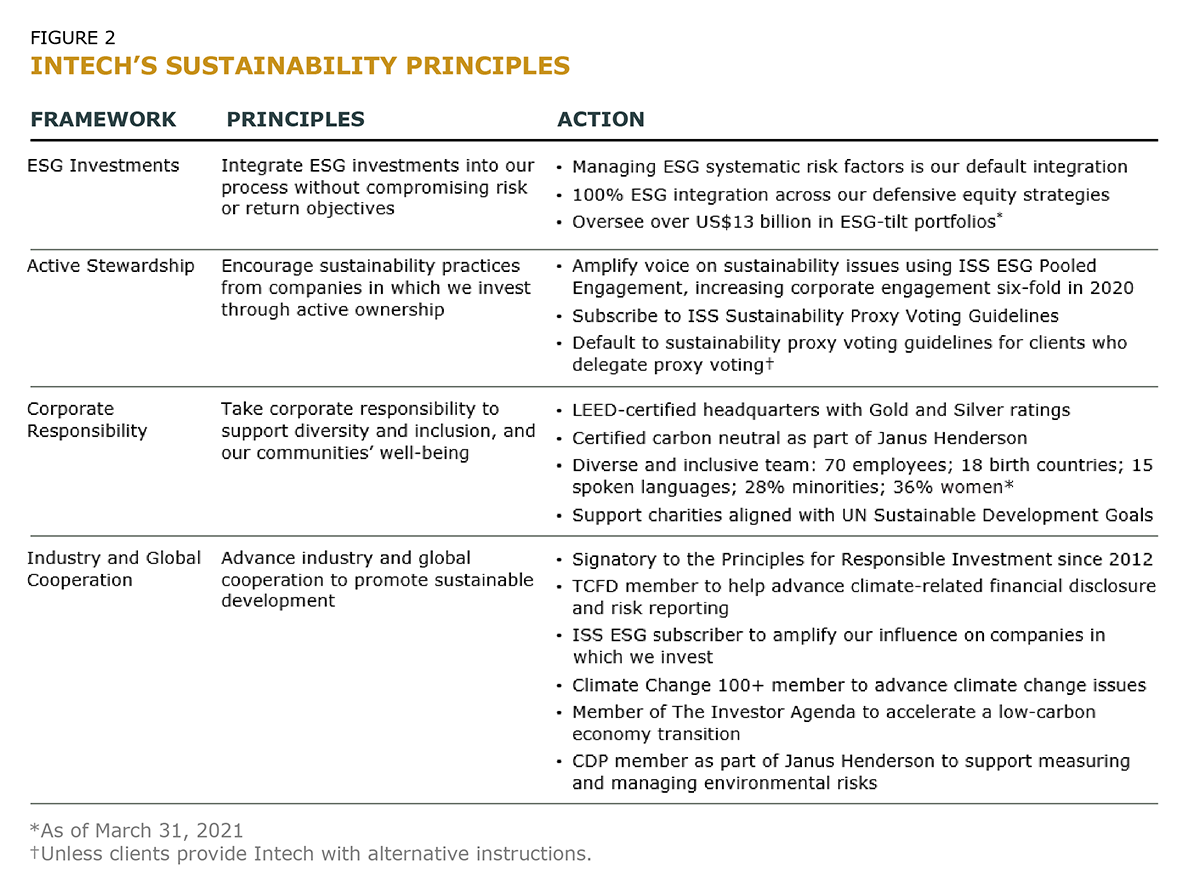 Sustainable Investing Primer
You can learn more about sustainable investing by downloading Intech's 5-minute Primer on Sustainable Investing. It provides quick, direct answers to basic questions about sustainable investing:
What is sustainable investing? Is it different from ESG?
Why do institutional investors adopt ESG criteria?
What misgivings do investors have about ESG?
How do you invest in a sustainable future?
Download the guide today!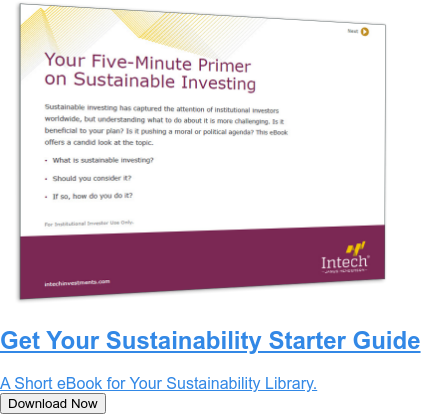 The information expressed herein is subject to change based on market and other conditions. The views presented are for general informational purposes only and are not intended as investment advice, as an offer or solicitation of an offer to sell or buy, or as an endorsement, recommendation, or sponsorship of any company, security, advisory service, or fund nor do they purport to address the financial objectives or specific investment needs of any individual reader, investor, or organization. This information should not be used as the sole basis for investment decisions. All content is presented by the date(s) published or indicated only, and may be superseded by subsequent market events or other reasons. Past performance is no guarantee of future results. Investing involves risk, including possible loss of principal and fluctuation of value. Information that is based on past results or observations is not necessarily a guide to future results, and no representation or warranty, express or implied, is made regarding future results.