Established in 1970, the first Earth Day celebration was not a celebration at all, but rather a push by organizers – politicians and student activists – to shine a light on the impact mainstream Americans' consumption and daily habits were having not only on the environment, but also on human health. The common values championed by Earth Day organizers, and the impetus behind various governmental agencies and laws, such as the U.S. Environmental Protection Agency, OSHA, and the Clean Air Act, are still center stage today. However, unlike 50+ years ago, it's not just American college kids doing the talking. Today, Earth Day is recognized globally as a day of action, a push to change human behavior and influence local, national, and global consciousness through policies − and investments.
Intertwined with the rising action towards environmental issues is also the awareness of social issues and corporate governance – typically grouped in investment terms as Environmental, Social, and Governance (ESG). And boy, have investors taken notice. At the end of 2021, a record US$649 billion poured into ESG-focused funds worldwide, up from US$542 billion the year before; ESG funds accounted for 10% of worldwide fund assets.1 Even more, ESG assets are on track to exceed US$50 trillion by 2025, representing more than a third of the projected US$140.5 trillion in total global assets under management, according to Bloomberg Intelligence's (BI) latest ESG 2021 Midyear Outlook report.2 The growth of this asset class is directly proportional to the acknowledgement of risk factors investors may previously not have been either aware of or concerned with. But today, with climate change and extreme weather events, social unrest, demographic shifts, and regulatory pressures, investors can't look away any longer.
Sustainability in Action
Intech has taken notice, too. We have been a champion for sustainable development and have made positive steps towards systematically integrating ESG considerations into our business practices, both in how we invest and how we run our company. We believe sustainability is about positively influencing everything we do, from investments we make as fiduciaries to our corporate citizenship.
Today, we systematically integrate ESG considerations into 100% of our strategies. But Intech's commitment to sustainability extends well beyond ESG investments. We use a holistic approach, involving every area of influence at Intech: ESG Investments, Active Stewardship, Corporate Responsibility, and Global Cooperation.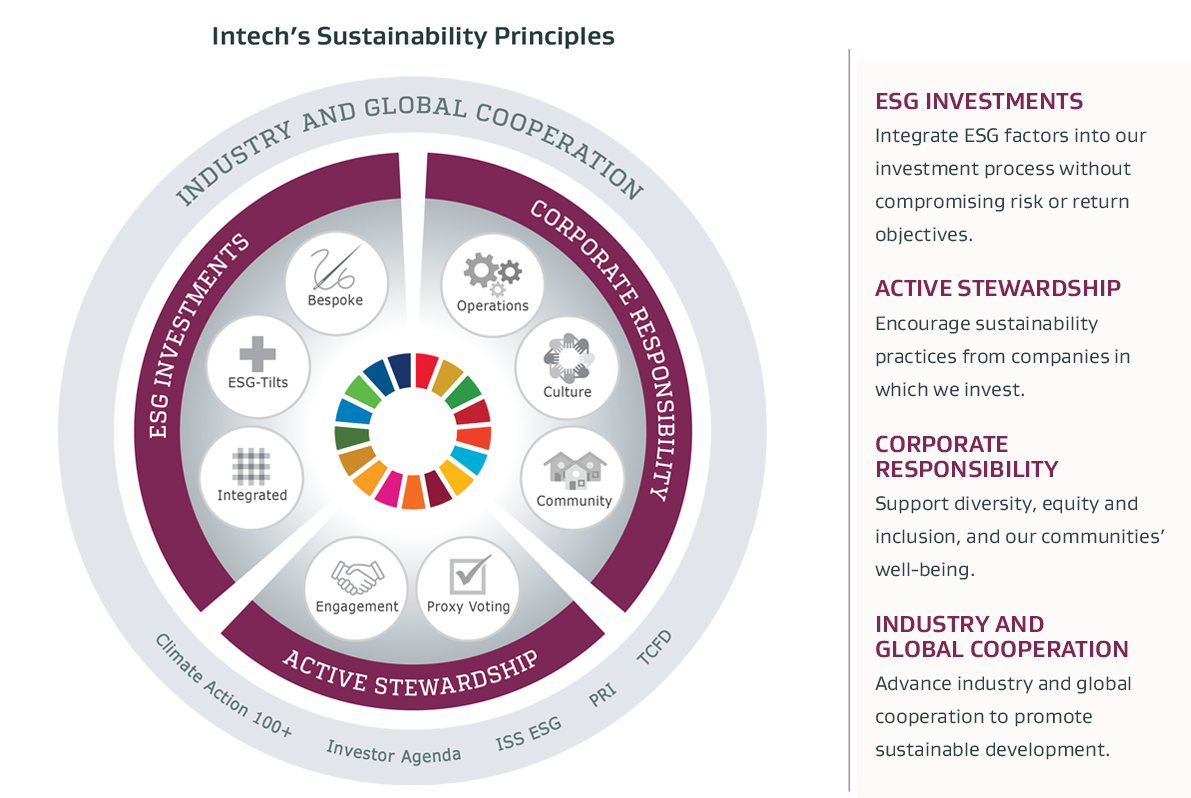 ESG Investments
Integrating ESG factors into our investment process without compromising risk or return objectives is a pillar of our sustainability approach. We evaluate ESG considerations across five risk factors – environmental, social, governance, carbon, and in aggregate – and can tilt ESG exposures at the portfolio level, offering strategies with a sustainable focus. In addition to offering 100% ESG-integrated investments, Intech is also an active steward, advocating for sound corporate governance and sustainable business models. We accomplish this through corporate engagement and proxy voting on our clients' behalf. Participating in organizations like ISS ESG, Principles for Responsible Investment and Climate Action 100+ amplifies our voice and provides potential for greater impact than we might achieve on our own. Other key sustainability memberships we participate in include: The Investor Agenda, The Task Force on Climate-Related Financial Disclosures, and Carbon Disclosure Project. We believe in the admirable goals of these organizations and understand the importance of supporting the vision and standards held by each of these groups.
Corporate Responsibility
In addition to creating sustainable investment options for our clients and consultants, Intech promotes sustainability in our daily practices. Our company headquarters in West Palm Beach, FL is Gold LEED® certified, a recognized symbol of sustainability achievement and leadership in the construction industry.
We also conserve resources and reduce pollution across many areas of our operation, continually evaluating new opportunities to reduce our environmental impact:
Adopting more web-based meetings
Defaulting to paperless presentations and reports
Offering employees remote working options
Requiring suppliers to detail their sustainability efforts
Providing employees reusable coffee mugs and tableware
Promoting our corporate recycling program
Investing for the Future
The aspiration for change that Earth Day formally ushered in over half a century ago has reached the global consciousness and now reaches almost every aspect of our lives – including how we invest. Our behaviors and actions as individuals, and collectively as an asset management company, can affect not only our clients, consultants, colleagues, and communities, but also society more broadly and the planet as a whole. We all have a role in sustainable development, and the Intech team will continue to advance our contributions along with our clients' transition to sustainable investing. Read more about Intech's sustainability goals and practices.

1. https://www.reuters.com/markets/us/how-2021-became-year-esg-investing-2021-12-23/
2. https://www.bloomberg.com/company/press/esg-assets-rising-to-50-trillion-will-reshape-140-5-trillion-of-global-aum-by-2025-finds-bloomberg-intelligence/