The 2021 United Nations Climate Change Conference—known as COP26 for short—came to a close this past weekend in Glasgow, Scotland, with a mix of promises and commitments from world leaders on how they plan to address climate change moving ahead.
As a backdrop, this was the 26th global climate summit with the countries that signed the original United Nations Framework Convention on Climate Change treaty in 1994. It took place six years after approval of the Paris Agreement, which outlined for the first time the united global goals of: 1) striving to limit global warming to below 1.5 degrees Celsius and 2) achieving net-zero carbon dioxide (CO2) emissions by 2050.
The 2021 Glasgow Climate Pact—the outcome of this most recent conference—represents important progress in the climate change fight. However, it certainly doesn't eliminate the problem of global warming and includes a range of compromises that have frustrated many climate policy advocates. Still, in our view, it helps to move the climate change needle in a meaningful way.
Below are three of the summit's key takeaways from an asset management perspective:
1. Pledges Have Become More Actionable.
The pact reaffirms the temperature and net-zero goals of the Paris Agreement. However, this time around, countries and private sectors also included a much clearer roadmap of how they plan to get there.
The most notable efforts were pledges to slash methane emissions and help better protect the world's forests. After CO2, methane is the largest greenhouse gas, and although it begins to break down relatively quickly, it traps much more heat when first released into the atmosphere. In an effort led by the U.S. and the European Union, more than 100 countries agreed to reduce methane emissions by 30% by 2030. There was also a landmark agreement to end and reverse deforestation by 2030 by more than 100 nations, notably including Brazil, Russia, and Indonesia, homes to some of the world's largest remaining forests.
In addition, more than 40 countries agreed to a UK-led pledge to phase out coal power in developed economies sometime in the 2030s and in developing economies in the 2040s. On the plus side, signatories included major coal-consuming countries such as Chile, Poland, and Vietnam, though Australia, China, India, and the U.S., all among the largest coal-users in the world, failed to sign on to the deal.
One of the clear themes from the summit was how to help capitalism "go green," recognizing the importance of the private sector to help combat climate change. For example, a group of governments and automakers pledged a 100% transition to zero-emission new car sales by 2035 in major markets and by 2040 worldwide. While the world's biggest auto markets, including China, Germany, Japan, and the U.S., were absent from the agreement, it notably included a number of large automakers, such as Ford and General Motors.
One of the clear themes from the summit
was how to help capitalism "go green,"
recognizing the importance of the private sector
to help combat climate change.
Another highlight was when governments representing more than 40% of current global aviation emissions committed to new reduction targets. In addition, major aviation companies, such as Alaska Airlines, Amazon Air, JetBlue and United Airlines, announced joining the Sustainable Aviation Buyers Alliance. The alliance focuses on speeding development and scaling usage of sustainable aviation fuels that help decrease air transport emissions.
Potential impact: The shift in tone at the summit to tangible actions, including interim, shorter-term targets over aspirational, long-term goals, means that investors should have a much clearer understanding of how climate policy is likely to affect various sectors and individual businesses in the years ahead.  
2. Clear Trends Toward Greater Transparency and Standardization.
Transparency and well-defined global standards have been largely lacking in past climate agreements. While there is still much work to accomplish in this arena, the summit marked several significant advancements.
For example, the UK announced its plan to become the first net-zero financial hub, calling for other countries to follow its lead. This effort includes introducing new requirements for UK financial institutions and publicly traded companies to detail and publish how they plan to transition to a net-zero economy by 2050.
The summit also set global rules for the first time to help govern the trading of carbon offset credits with unified, internationally controlled standards and a centralized UN-supervised marketplace. Establishing this type of consistent framework should go a long way toward helping to achieve broader integrity and the global scaling necessary to reach current emission reduction goals.
Potential impact: Greater and more consistent disclosure requirements around carbon reduction efforts will help to set a more level playing field across companies and should help to reduce the risks of greenwashing that have challenged sustainability-minded investors. Rules for a new global carbon market should also help to accelerate the trading of emissions credits.
3. The Global Financial Industry is Taking a Leading Role in Sustainability Commitments.
The financial industry has stepped up in a significant way when combating climate change, even as critics point out the need to do more. During the summit, a global coalition of almost 500 financial services firms, including banks, insurers, and asset managers, pledged to align their collective $130 trillion in assets under management to meet net-zero targets by 2050.
Similarly, the Net Zero Asset Managers initiative, which consists of more than 200 investment firms, released its first progress report as the conference got underway. More than 40 of the group's signatories showed that roughly 35% of their total AUM is currently managed in line with net zero goals. Member organizations have committed to reaching 50% of their AUM by 2030.
Potential impact: The sheer asset size of the global financial industry brings tremendous clout to the world's carbon reduction efforts, and these types of commitments should prove highly effective at moving a substantial and consistently growing amount of capital toward net-zero goals.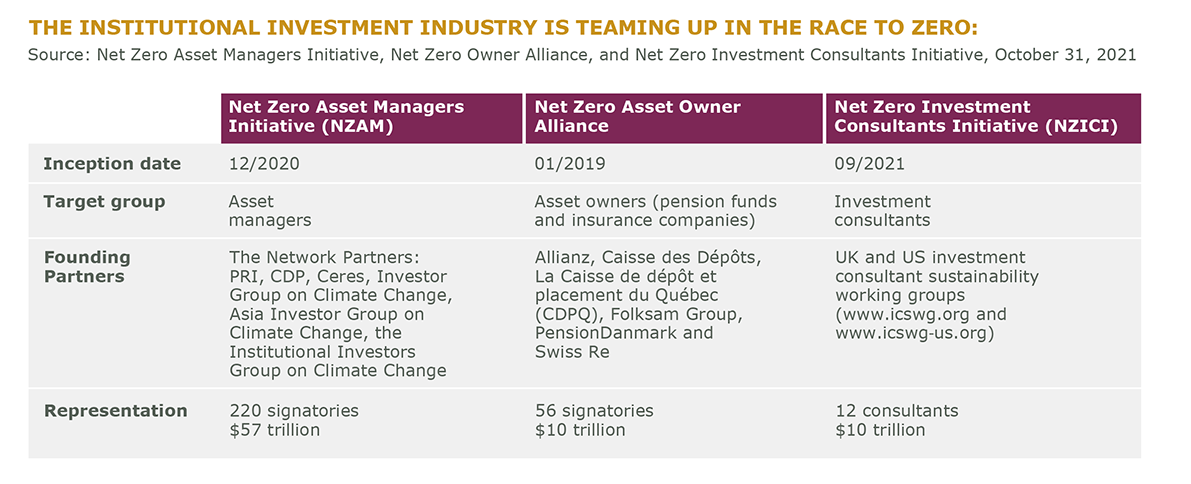 Intech is proud of its commitment to combatting climate change as part of our broader sustainability efforts, both in the management of the firm and through our investment portfolios.
The following resources offer more information about low carbon and other sustainable investing strategies:
Balancing Act: Learning from the Best and the Worst of Times for ESG
Your Five-Minute Primer on Sustainable Investing
Overcoming ESG Data Challenges
The views presented are for information purposes only and should not be used or construed as investment, legal or tax advice or as an offer to sell, a solicitation of an offer to buy, or a recommendation to buy, sell or hold any security, investment strategy or market sector. Nor do they purport to address the financial objectives or specific investment needs of any individual reader, investor, or organization. The views are subject to change at any time based upon market or other conditions, are current as of the date indicated, and may be superseded by subsequent market events or other conditions.
Past performance is no guarantee of future results. Investing involves risk, including the possible loss of principal and fluctuation of value. As with all investments, there are inherent risks that need to be considered.
Intech is the source of data unless otherwise indicated, and has reasonable belief to rely on information and data sourced from third parties.