Time flies when you're making progress! It's hard to believe that just over a year has passed since our management buyout from Janus Henderson. At Intech, we're working harder than ever to build on the groundbreaking work of our founder, Dr. Fernholz, who introduced Stochastic Portfolio Theory some 35 years ago. Since the MBO, we've been focused on retooling our company to drive innovation faster in order to deliver even more value to our clients. Today, I'm excited to share some of the progress we've made on this journey.
Prioritizing What Matters
With the increased flexibility afforded by the MBO, our first order of business was to reinvest in our core competency: investment management. Over the last year, that meant reallocating resources toward talent, modernizing research systems, improving trading, and addressing our clients' investment needs. We've acted on all four fronts.
Investment Talent
We have made strategic personnel changes to our investment team that we believe position us to deliver the best possible outcome for our clients.
Just before the close of the MBO, we proudly announced that Dr. Jian Tang, an assistant portfolio manager, was promoted to portfolio manager. Dr. Tang has been an integral part of our team for several years and has demonstrated a deep commitment to our clients and our investment philosophy. He has continued to excel in his new role and contribute to our firm's continued growth and success.
Dr. Adrian Banner, as most of you know, transitioned his CEO responsibilities to me early last year and began dedicating 100% of his focus to portfolio management and research. This enabled us to introduce Enhanced Volatility Modularization, which allows us to add new alpha sources rapidly, keeping pace with capital markets' dynamics.
The additions of Dr. Ryan Stever as our Deputy CIO and Henry Meng as Vice President of Research have further strengthened our team. Dr. Stever brings a wealth of experience and expertise from his senior equity research positions at BlackRock, Citadel, and Acadian Asset Management. His contributions to our investment process have helped us make even stronger investment decisions for our clients. Meanwhile, Mr. Meng's data engineering experience, including his work with Ryan as a quantitative research analyst at Citadel, has allowed us to modernize Intech's research platform. His leadership will further enhance our research capabilities and ultimately benefit our clients.
STRATEGIC INVESTMENT PERSONNEL CHANGES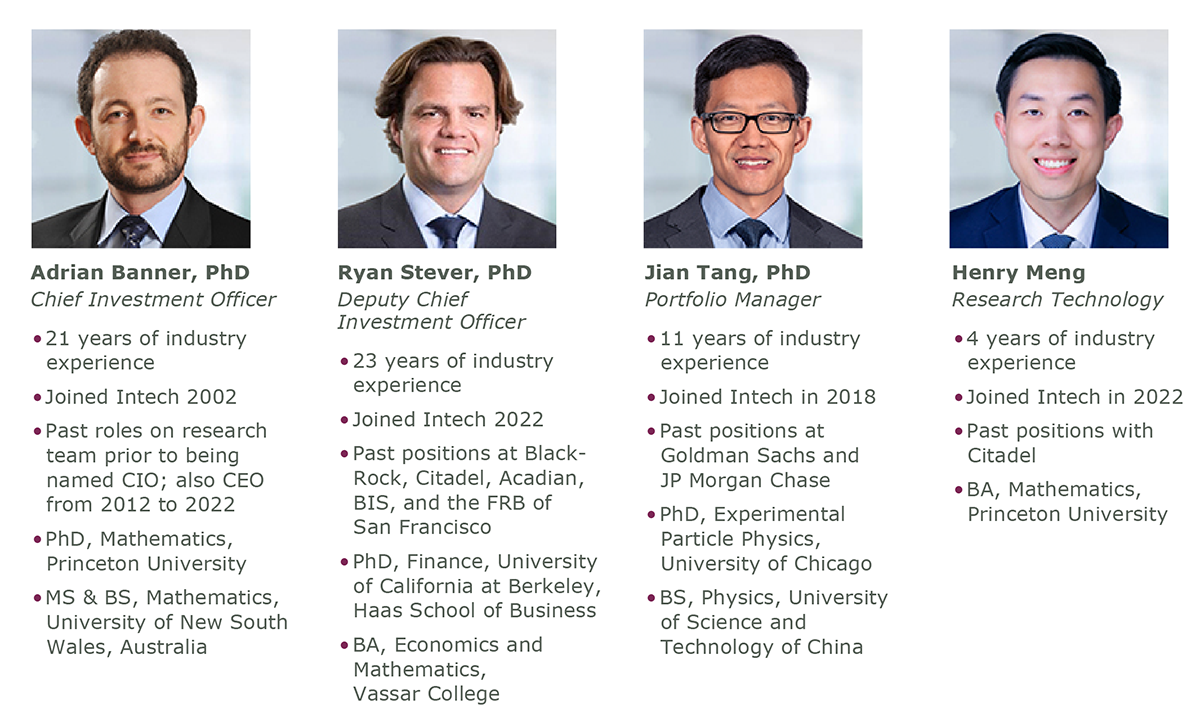 Overall, these personnel changes demonstrate our commitment to investing in talent, innovation, and excellence. We are confident that our team will position us for even greater success in the future and enable us to deliver exceptional results for our clients.
New Cloud-based Research Platform
We are excited about transitioning our R&D technology and data platform from an on-premise infrastructure to a state-of-the-art 100% cloud-based computing environment. This move represents a leap forward in our investment research and modeling capabilities by significantly improving the productivity of our investment team, and empowering the utilization of big data and modern data science tooling, including AI.
We want to emphasize that this important transition will not change our investment philosophy or commitment to the Stochastic Portfolio Theory framework. Rather, the new platform will enable our investment professionals to evolve our processes at a cadence consistent with the rate of change in today's capital markets.
SNOWFLAKE-DRIVEN R&D PLATFORM IN BETA TESTING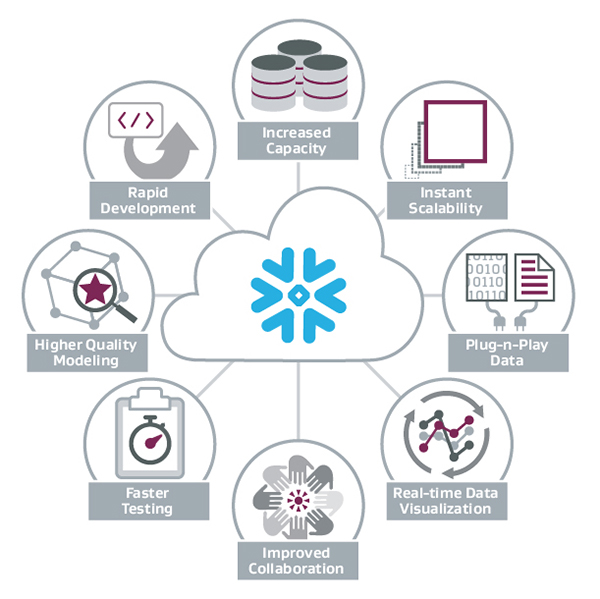 One of the key benefits of moving to a cloud-based computing environment is its instant scalability. We can spin up and retire data environments effortlessly, add third-party tools as necessary, onboard new data sources efficiently while ensuring integrity, and make us nimbler overall. Our ability to "fail faster," while experimenting with new investment strategies in a low-risk environment, promotes innovation and ultimately drives better client outcomes.
Dr. Ryan Stever and Henry Meng have been working diligently with our new Chief Technology Officer, Paul Cassell, and others to build the new infrastructure, which is now in beta testing. Paul's contributions to this effort cannot be overstated as he has brought to bear his 25+ years of industry experience, including eight years as the Chief Information Officer at the NYSE.
Electronic Trading Implementation
At Intech, trading is an integral part of our investment process, so improving trading practices is essential to delivering better investment results for our clients. Over the past year, we have made significant strides in this area. I worked closely with our trading team to conceive and implement highly systematic algorithmic trading capabilities for U.S. equity markets, affecting all of our U.S. and Global strategies. This new trading platform has reduced our explicit trading costs and commissions while also minimizing our implicit trading costs, such as market impact.
"This new trading platform has reduced our explicit trading costs and commissions while also minimizing our implicit trading costs…"
We are excited about the improvements in trading outcomes, as we believe they will translate into improvements in client outcomes. To that end, we are implementing a soft-dollar commission program to help us offset the ever-increasing costs of data – the lifeblood of our investment process. We are confident that this program will increase access to the best data, allow for better investment opportunities, and ultimately, enhance client results.
New Product Development
We recognize that our clients' investment needs are constantly evolving, especially in light of worsening equity volatility, more frequent and severe drawdowns, and shifting asset-class interdependencies. To better serve them, we've launched new U.S. and Global equity strategies designed to address the challenges of today's fast-moving, macro-risk-driven market environment.
Typically, investors adjust asset allocations by adding esoteric, less-liquid assets to their portfolios. However, we believe that equities, which are typically the largest risk contributor, should be the starting point. Our new strategies seek to offer several benefits, including:
Adding excess return over benchmarks
Lowering volatility relative to benchmarks
Providing convexity in equity market tail-risk events
Stabilizing portfolio diversification amidst cross-asset correlation shifts
Importantly, these are not "defensive" equity strategies. While we purposefully incorporated some defensive features, we've designed them to participate fully in bull markets and perform well in all market conditions.
We're confident that these new strategies will help our clients better navigate the changing investment landscape and achieve their long-term goals.
INTRODUCING INTECH ALL MARKET CORE EQUITY STRATEGIES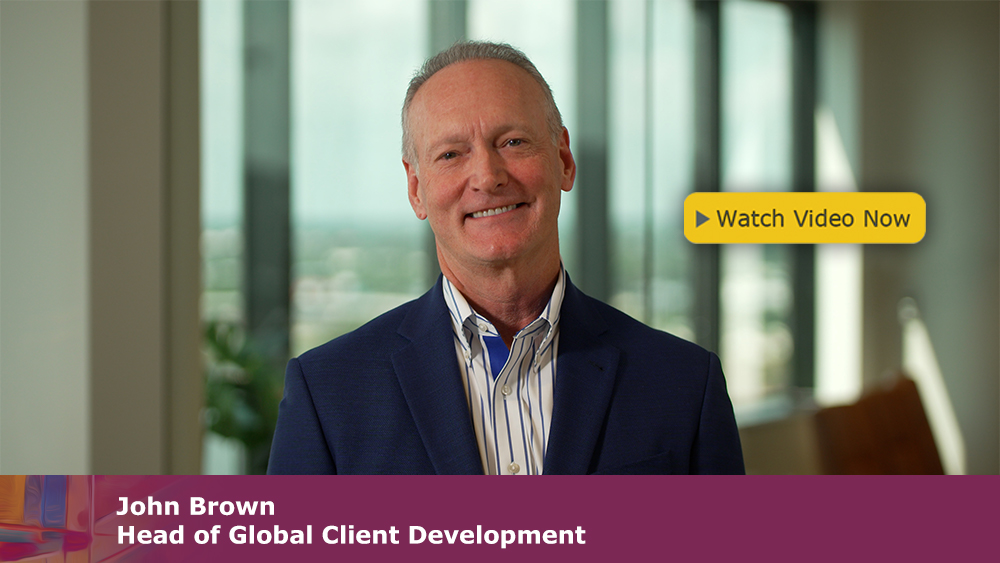 Modernizing Front-to-Back Office Operations
We are also thrilled to provide you with an update on our efforts to separate our investment operations from our former parent company's infrastructure. Our goal is to continuously improve our services to you, and we believe that this transformation will enable us to do just that.
Last year, we engaged OPCO Advisory to help us in the search for a new operations partner. After an extensive evaluation process, we chose SimCorp, a global provider of operational software and services to investment managers. We have selected their full lifecycle management service to support all of Intech's post-trade, performance, compliance, and activities related to our investment book of record. We will also implement SimCorp's Snowflake-powered data warehouse and cloud-native client portal.
NEW INVESTMENT OPERATIONS INFRASTRUCTURE

One of the key benefits of our partnership with SimCorp is a more holistic overview of our business operations, seamless integration of managed processes, and transparent access to data across all of our post-trade operations and related reporting. These capabilities will enable us to make even stronger investment decisions for our clients.
We are confident that our partnership with SimCorp will support our future growth aspirations with a highly scalable, innovative platform. This will enable us to offer you even more efficient and effective investment solutions in the future.
We want to make sure you know that this transition is being handled with great care and precision. We are in the throes of the transition today and expect implementation to occur in Q4, which will include an extensive period of parallel production testing. Our team is working tirelessly to ensure a seamless changeover without disruption to services.
100% Employee Ownership
Our employees are our most valuable asset and we recognize that their dedication is critical to our success. That's why we've created a new equity ownership plan where every full-time employee as of January 1, 2023 was granted a genuine equity stake in the company.
OWNERSHIP BEFORE MBO VS. TODAY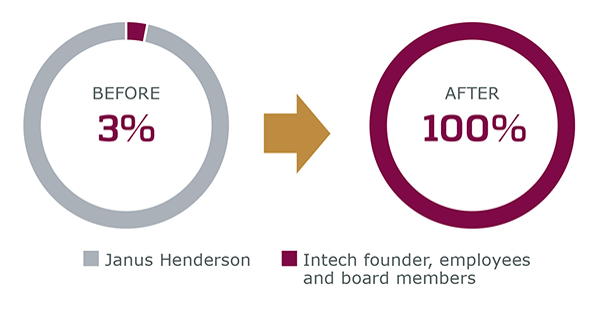 We're confident that this broadly distributed equity ownership plan will further align our interests with those of our clients by fostering a stable and dedicated team of investment professionals. We also believe that it will be instrumental in attracting and retaining the very best talent in the industry to the benefit of our clients.
Looking Ahead
Since the MBO, Intech has been squarely focused on retooling our company to deliver even more value to our clients and drive innovation. We've made significant progress in areas such as talent, technology, trading, product development, operations, and employee ownership. We believe that these changes will position us for even greater success in the future and enable us to potentially deliver incomparable results for our clients. We remain committed to our founding principles and the innovative spirit of Dr. Fernholz, and we look forward to continuing to build on his pioneering work in the years to come.
Past performance is no guarantee of future results. Investing involves risk, including fluctuation in value, the possible loss of principal, and total loss of investment.
There are inherent risks associated with investing in securities markets. Investing in securities involves risk of loss that investors should be prepared to bear. The risks will vary based on the nature and attributes of the investment strategy and the specific securities and other instruments held.
There is no performance guarantee associated with investing in any Intech strategy. There can be no assurance that the objectives associated with any Intech strategy will be met or that any investor will or is likely to achieve the expected investment results. An investment should only be made by those persons who could sustain a loss on their investment.